Rules for the Road
Luke 10:25-37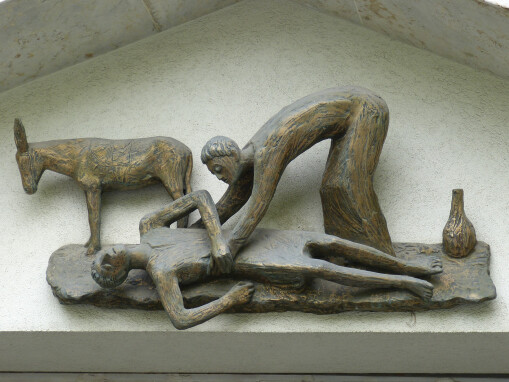 Summer is finally here!! Many have been (and will be traveling) in the next several weeks. Going to see family, friends and loved ones all around God's wonder-filled earth. Places we have never seen before and places we have visited many times. All of which represent the privilege we enjoy of being able to travel freely/at will.
Others aren't as privileged as we. Whether it is because of financial constraints or traveling restrictions, everyone isn't able to come and go as they please. So, while we are looking at waterfalls, canyons, beautiful scenery on hiking trails or just drinking lemonade, we should keep in mind just a few important courtesies.
Over the next few weeks, we will take a look at some RULES FOR THE ROAD. Our first trip will be with the Good Samaritan in the Gospel according to Luke. We are probably pretty familiar with the story and probably have studied it from many angles, but let's try just one more.
Join us on Sunday at 9 or 10:30 a.m. as we travel down the Jericho Road with the Good Samaritan. ALL are welcome.
Response:
"Just like driving, every time we get int he car, we think about the rules to follow, but as believers we are on a journey that also has rules. This story - 'Good Samaritan' - it could have had several titles and themes to focus on but it is really a story of COMPASSION. Jesus calls us to be the compassionate concerned citizen. Pay attention and notice one another. Jesus did not call us to seek an easy job. The road we are to follow is filled with those who would cause us ill will, who do not walk the same as we to. We should know that as we travel the road in front of us, He is with us. We are traveling not in a Ford or a Mazda but in 'The Love of Christ'." - Glenn
Series Information