Small Miracles Preschool
Small Miracles Preschool provides a variety of experiences and opportunities that will encourage young children to develop socially, emotionally, and intellectually and to develop to life long love of learning. Through these experiences, each child will grow and learn that each possesses unique God-given talents.
Seeking Director
for re-opening
Woodridge United Methodist Church's Small Miracles Preschool is seeking a Preschool Director to start immediately.
The Director is responsible for maintaining the daily operations of Small Miracles Preschool, a warm and friendly environment, and a quality Christian-based, child-centered program. The Director must meet and maintain the minimum State Licensing Requirements of Department of Children and Family Services (DCFS) for the State of Illinois, and lead and support the staff through teamwork and mutual respect to achieve individual and classroom goals. The Director reports to the Small Miracles Preschool Board of Directors with day-to-day accountability to the Lead Pastor of Woodridge United Methodist Church.
Parents were asked how they would describe Small Miracles Preschool to another parent.

This is how they responded:
"It is wonderful school that is designed to meet your child's developmental needs with the variety of classrooms offered. The staff [are] great - they will love your baby while he/she is at school."
"A warm friendly place, emphasis on relationships, a family, staff members are caring and make students feel special, a supportive environment."
"Fun loving group that works with every kid enduring that they are comfortable, growing academically and socially. The variety of learning strategies reaches every type of learner so they can continue to develop."
"A great school where my child is loved. He is getting a great education, learning important social skills and becoming more independent. I couldn't be happier."
"Hands down the best preschool around! We are so blessed and lucky to have our children attend SMP! Wonderful teachers, fantastic curriculum, and all around happy, loving, supportive place."
"Caring and loving feel, commitment to community service, affordable, good value and solid program. We're lucky to have found it! Love the teachers and staff!"
Small Miracles Preschool Mission Statement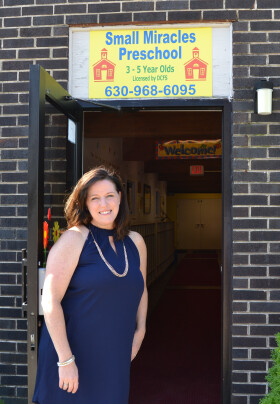 The mission of Small Miracles Preschool is to provide quality early childhood education and care. We seek to provide a safe environment in which young children feel respected, loved, and valued while nurturing their capacity to grow socially, emotionally, intellectually, and spiritually. We strive to deepen children's commitment to positive social values such as kindness, helpfulness, and respect for others.
As a ministry of Woodridge United Methodist Church, a Christian community of faith, we gladly accept and welcome children and families of all faith backgrounds. We do not discriminate on the basis of race, color, religion, sex, gender, national origin, disability, economic status, or cultural background.
Helping children learn since 1988!
Licensed by DCFS

630-968-6095
2700 West 75th Street · Woodridge, IL 60517
Email: