Classes
Registration for the 2020-2021 School Year!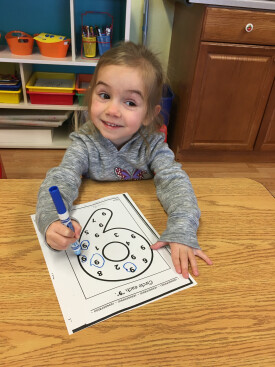 If you are interested in registering your child, please print and complete the Registration Form and return it with your non-refundable registration fee. Registration fees are $85.00 for a new student, $50.00 for returning students, and $50.00 for each addition child from the same family. Your check, made payable to Small Miracles Preschool, will secure your child's placement for the 2020-2021 school year, beginning in October.
If you have any questions, please call or email the preschool office at 630-968-6095 or .
---
Pre-Kindergarten
Our Pre-Kindergarten program is designed to prepare children both academically and socially for kindergarten. This program is for children who will be attending kindergarten the following year and turning 4 before August 31st, 2020. The school supply list will download by clicking here.


Teachers
Stacey Bretwisch (top): Starting her third year with us, Stacey joined us after spending five years as a substitute teacher in Woodridge School District 68 and is excited about this school year.
Laurie Reiken (left): Laurie has been teaching preschool for 13 years and is excited to be at Small Miracles for her third year.
Terry Vanderjack (right): Terry has been with Small Miracles for 15 years. She loves working with pre-kindergarten children and appreciates their enthusiam and excitement about learning new things.

Pre-K Morning Class
Monday through Thursday
8:30am to 11:30am
$300.00 per month
Pre-K Afternoon Class
Monday through Thursday
12:15pm to 3:15pm
$300.00 per month
Summer Camp!
We are hoping to start up Summer Camp again in June of 2021.
Add-on Classes!
As of now, No Add-on classes are available for the 2020-2021 school year.
Small Miracles Preschool
Helping children learn since 1988!
Licensed by DCFS


630-968-6095
2700 West 75th Street · Woodridge, IL 60517
Email: