West Suburban Food Pantry

DID YOU KNOW???
Woodridge United Methodist Church is one of the founding member churches of the WEST SUBURBAN COMMUNITY FOOD PANTRY? We continue to donate on an ongoing basis.

The West Suburban Community Food Pantry is located in Woodridge, IL at 6809 Hobson Valley Drive, Unit #118, and serves economically disadvantaged clients on the following days: Tuesdays from 8:30 am to 11:30 am and 1:30 pm to 3:30 pm; Thursdays from 8:30 am to 11:30 am and 5:30 pm to 7:30 pm; and Saturdays from 8:30 am to 11:30 am. Generally, a family may receive 125 lbs. of food monthly.
The Food Pantry Needs Your Help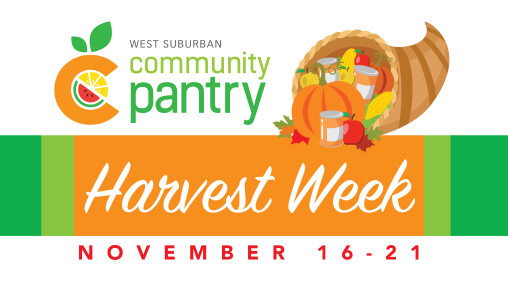 The demand has virtually doubled over the past eight months, and as the holidays are approaching, we are seeing the need rise again. Help pack the Pantry and provide nourishment for our neighbors in need by bringing holiday food items and toys to one of our socially distanced drop-off sites.
TUE., NOVEMBER 17
Woodridge
Village of Woodridge
5 Plaza Dr.
8:00 - 4:30 PM

THR., NOVEMBER 19
Woodridge
Clara's Restaurant
6550 Rt. 53
4:00 pm - 7:00 pm

THRS., NOVEMBER 19
Naperville
1st Congregational UCC
25 E. Benton Ave.
1:00 - 4:00 PM

FRI., NOVEMBER 20
Naperville
Naperville Sunrise Rotary Club
25W570 Chicago Ave. (Naper Country Club)
8:00 - 10:00 am

SAT., NOVEMBER 21
Woodridge
ARC - Athletic Recreation Center
8201 S. Janes Ave.
7:00 am - Noon
Please practice safe social distancing during this drive. The donation hours allow for a minimum of people to be at the drop-off location at any one time and all drop-off locations are outdoors in the parking lot. Look for the HARVEST WEEK DONATE HERE lawn signs.

MOST NEEDED ITEMS
New Toys (age 0-12 years) | New Books | Turkeys & Hams | Boxed Stuffing | Boxed Potatoes | Canned or Instant Gravy | Cranberries / Cranberry Sauce | Pumpkin Pie filling & other dessert mixes | Other Holiday food items

Monetary donations are also greatly needed and appreciated. For every $5.00 donation, we can secure the equivalent of 20 meals for those we serve. Click here to donate.

HOW TO DONATE:
Bring non-perishable items and place them in the over-sized basket that reads "Woodridge Food Pantry". In addition to food items, the Pantry is always in need of diapers, baby wipes, and household and personal hygiene items.

Please give generously to this most important local mission. Thank you!