Service Times & Location
Worship is a time for connecting with God and one another.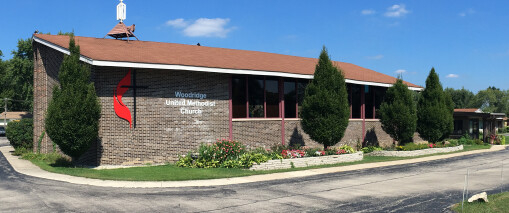 We offer opportunities to do that in various ways which may include music, drama, visual arts, etc. Being part of worship is being connected.
SERVICES CONTINUE TO BE HELD ONLINE Due to the Pandemic. Join us for Sunday morning worship at 10:00am on YouTube live on the
Woodridge UMC page.
We are now ready to welcome a limited amount of persons in the sanctuary on Sunday mornings. You must register to let us know you will be attending using this link. Please be sure to register no later than Friday at noon. When you register, you will receive the guidelines all must follow for everyone's safety and well-being.
Join us on Sundays at 9:00 & 10:30 am.*
(If there are five Sundays in a month,
the Fifth Sunday has one worship service at 10:00 am).
Accessibility aids are available. Just ask the ushers for assistance:
Large print hymnals
A wireless hearing aid system.
The building and sanctuary are accessible to people with mobility issues.


*Inclement Weather
Please know that we will always hold worship services regardless of the weather. However, we ask everyone be mindful of their ability to travel safely before choosing to attend services.
All Are Welcome!