Making Room for More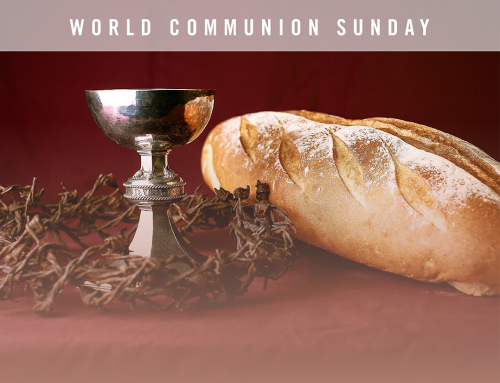 This Sunday is called World Communion Sunday. You can read in other parts of the E-News about the importance of the offering for this day that supports the Crusade Scholarship and other scholarship programs for ethnic United Methodist students. As a former Crusade Scholar, I say "thank you" for support given down through the years.
However, this day is also celebrated in other denominations as a reminder of what we all share in common....the Table of Christ. The time of memory and redemption. The table that is big enough to have room for all who wish to be in community with their neighbor. The table set for those in need of forgiveness and faith, hungry for mercy and thirsty for grace. A table that has a place for everyone....even children.
Our world seems to be in such disarray that nothing can possibly make a difference. We sometimes look around our world and think..... "I don't have enough patience/time/tolerance/grace/faith/resources for what is going on!". Our beloved community has lovingly embraced this attitude of scarcity and allows it to permeate every fiber of our being... even in church!!!! Our lament seems to be...."We don't have enough to do what God has called us to do". And yet, over and over, This proves not to be the case!
The Gospel message for this week, according to Luke, tells us that we should have a different approach in our thinking. It is a reminder that we need to be "MAKING ROOM FOR MORE". Understanding who we are and what we really have available for our use..... just as small as a mustard seed.
In our scarcity-driven world how does that work? What kind of answer or options do we really have? Maybe that would be a good place for us to start our conversation on Sunday........ Join us at 10:00 a.m. in person or on YouTube to help find some answers.